Web Resources
Featured Resource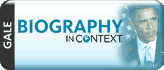 Accessible to current Thrall / RCLS Library cardholders. A comprehensive database of biographical information on more than one million people from throughout history, around the world, and across all disciplines and subject areas.
Other Resources
"The Academy of Achievement brings students face-to-face with the extraordinary leaders, the visionaries and the pioneers who have helped shape our world." Areas include The Arts, Business, Public Service, Science & Exploration and Sports.
A growing collection of brief sketches covering over 25,000 diverse personalities, including historical figures, politicians, sports, entertainers, and more.
This dictionary includes more than 27,000 notable men and women from ancient times to the present day.
Search by name, state, party and position from 1784 to the present. Includes the Continental Congress.
An occasionally humorous but current source of concise biographies and obituaries.
"A multicultural biographical source that covers notable individuals from every part of the world and from all time periods who have made significant contributions to human culture." From Thrall's Virtual Reference Library. Available to members of Thrall.
Biographical information on scientists and mathematicians.
From the United Nations.
The archive contains over 500 oral history interviews of African Americans. They are grouped thematically by occupations. Each brief biography also includes a photograph of the subject. A timeline of events goes back to the 1800s.
From the American Society of Mechanical Engineers.
"NNDB is an intelligence aggregator that tracks the activities of people we have determined to be noteworthy, both living and dead. It mostly exists to document the connections between people, many of which are not always obvious." Also includes the "NNDB Mapper" which is described as "a visual tool for exploring the connections between people in NNDB, linking them together through family relations, corporate boards, movies and TV, political alliances, and shadowy conspiracy groups. Maps can be saved and shared for others to explore." Contains information on over 40,000 persons. Browse or search. You can examine sources and further readings on each person under the Bibliography tab. The NNDB Mapper link (right / top of record) visually depicts connections between persons as expandable nodes.
"The Internet's most comprehensive free source for American political biography, listing 217,078 politicians, living and dead." Compiled by Lawrence Kestenbaum.
"A selection of portraits of historical figures from the Perry-Castaneda Library, University of Texas at Austin."
See also:
[
Ask a Librarian
] [
Explore other web guides
] [
Current Interests Center
]
[
Library Catalog
] [
Search the Web
] [
Library Home Page
]

Ready Reference Center © Copyright 1999 - 2014 Middletown Thrall Library