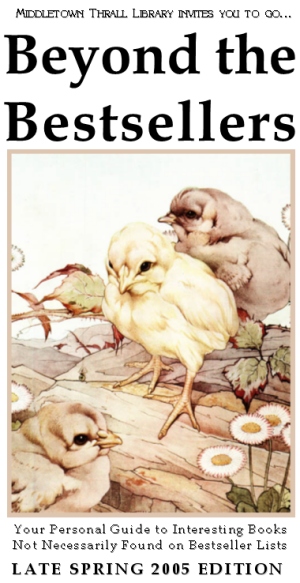 You can pick up a printed version of this list at Middletown Thrall Library.


Missed the Winter 2005 issue? Don't worry: It's still available online!



Check out our Booklovers Web Guide for sites especially helpful to readers: book clubs, reading groups, book discussions, reviews, reading advisories, publishers, bookstores, and more!



Find bibliographic information for over 5 million book, audio book, and video titles in Books In Print: Patron Edition, or browse by subject, author, or book awards. Login using your Thrall Library card.



Have you tried NOVELIST yet? Find books and authors based on ones you like. Login using your Thrall Library card.



Looking for suggestions? Stop by our Readers' Advisory Center by Reference or ask a librarian for recommendations on what you might like to read next.



Every year the library hosts book discussions open to the public. Ask to be added to our mailing list or stop by the library to find out what's in the works!



Click here to find out what other free programs are currently scheduled at Thrall.



Click here to view current bestseller lists and other news items of possible interest to you.
Consider any of the titles below the next time you're looking for something interesting to read. To learn more about a book and check on its availablity within the library system, click a title link below.

Some book records in the library catalog, such as The Lake, the River, and the Other Lake, have additional links you can click to learn more about the book and the author. Some titles even have chapter excerpts that you can read online!

Scroll down and browse by genre to begin!



---





GENERAL FICTION

The Lake, the River, and the Other Lake by Steve Amick
Migrant workers, townies, vacationers and a Native American Viet Nam veteran all have a part in this funny and wise novel that takes place during a summer in Weneshkeen, a fictional resort town on Lake Michigan's "Gold Coast."

In the Face of Jinn by Cheryl Howard Crew
When her sister disappears during a silk buying trip for their lucrative import business, Christine Shepherd embarks on a harrowing adventure through India, Pakistan and Afghanistan in search of her. The author is the wife of Ron Howard.

Other titles to consider:



HISTORICAL FICTION

The Illuminator - Brenda Rickman Vantrease.
Set in fourteenth century England, this extraordinary first novel explores the religious unrest of the time. A widow trying to hold onto her twin sons' right to their father's manor estate offers lodging to a manuscript illuminator and his daughter. Richly drawn characters and historical detail highlight this absorbing story.

Other titles to consider:



MYSTERIES

The Rebels of Babylon - Owen Parry
Parry's sixth installment of the award winning Abel Jones mystery series follows Civil War detective Abel Jones as he investigates the death of a young crusader. He finds himself facing fantastic rumors of the resurrected dead as 1863 New Orleans approaches hysteria and riot.

Some Welcome Home - Sharon Grant Wildwind
Captain Elizabeth Pepperhawk, returning from Viet Nam to serve as head nurse at the Army hospital at Fort Bragg, North Carolina finds the body of a dead soldier in her hotel bed. Some Welcome Home is an emotional and evocative story that will have readers looking forward to more.

Other titles to consider:



SCIENCE FICTION

Titles to consider:




THRILLERS

The Inside Ring - Michael Lawson
After an attempt on the president's life that results in two other deaths, the Secret Service comes under the scrutiny of Joe DeMarco, the Speaker of the House's fix-it guy. Filled with excitement and danger and peopled with very human and humorous characters, The Inside Ring provides first-rate entertainment.

Titles to consider:



---