Web Resources
Featured Resources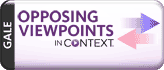 "CQ Researcher is often the first source that librarians recommend when researchers are seeking original, comprehensive reporting and analysis on issues in the news. Founded in 1923 as Editorial Research Reports, CQ Researcher is noted for its in-depth, unbiased coverage of health, social trends, criminal justice, international affairs, education, the environment, technology and the economy." There is an Overview, Current Situation, Chronology and Pro/Con section for each topic covered. For Middletown Thrall Library cardholders.
Formerly known as Opposing Viewpoints Resource Center. This database can be used to explore a variety of "pro" (for) and "con" (against) viewpoints on numerous topics. Browse or search for an issue and view full text articles to learn more about different positions, controversies, arguments, disagreements, and similar opinions shared by scholars and experts. For Middletown Thrall Library cardholders.
ProCon.org is a nonpartisan, nonprofit, 501(c)(3) public charity whose mission is "Promoting education, critical thinking, and informed citizenship by presenting controversial issues in a simple, nonpartisan primarily pro-con format."
Web Resources
Multiple resources.
Multiple resources.
Browse topics alphabetically. Clicking on a topic produces a page including an overview of the topic as well as "pros and cons" (contrary viewpoints and ideologies). Provided by International Debate Education Association (IDEA).
"Debate Central is an online resource created and maintained by the National Center for Policy Analysis for high school students researching the nationwide high school debate topic. Our primary objective is to provide students from disadvantaged and low-income school districts with cost-free access to the best debate material available. In so doing, we work to expose debaters to multiple perspectives on each topic and equip them with a deeper, well-rounded understanding of major public policy issues." Click "Research Topics" to browse current issues in focus and recommended readings.
Multiple resources.
"We're publishing reports by Congress's think tank, the Congressional Research Service, which provides valuable insight and non-partisan analysis of issues of public debate. These reports are already available to the well-connected - we're making them available to everyone for free. EveryCRSReport.com is a project of Demand Progress in collaboration with the Congressional Data Coalition - a bipartisan coalition founded by Demand Progress and the R Street Institute to promote open legislative information." Search or browse by topic.
"We are a nonpartisan, nonprofit 'consumer advocate' for voters that aims to reduce the level of deception and confusion in U.S. politics. We monitor the factual accuracy of what is said by major U.S. political players in the form of TV ads, debates, speeches, interviews and news releases. Our goal is to apply the best practices of both journalism and scholarship, and to increase public knowledge and understanding." From the Annenberg Public Policy Center of the University of Pennsylvania.
Described as "the quarterly policy journal of the National Academy of Sciences, National Academy of Engineering, Institute of Medicine, and the University of Texas at Dallas. We publish articles that analyze current topics in science, technology, and health policy and recommend actions by government, industry, academia, and individuals to solve pressing problems." Articles from current issues can be viewed. Past articles/issues can also be searched.
"Each year the NFHS Speech, Debate & Theatre Association announces the national high school debate topic. According to 44USC1333, the Library of Congress is responsible for preparing compilations of pertinent excerpts, bibliographical references, and other appropriate materials relating to the annual topic. The compilation is then printed as a Senate document and disseminated by GPO. The following is a listing othe the compliations that have been disseminated since 1996." List provided by the U.S. Government Printing Office (GPO).
Exploring major topics, policy positions, persons, and events in the news.
Multiple resources.
Browse alphabetically by topic for related web resources. Provided by Vanderbilt University Library.
Select a topic from the list for definitions, overviews, articles/viewpoints, news, research, and more. Provided by MedlinePlus from the U.S. National Library of Medicine and National Institutes of Health.
"The Social Issues Research Centre is an independent, non-profit organisation founded to conduct research on social and lifestyle issues, monitor and assess global sociocultural trends and provide new insights on human behaviour and social relations."
From the Roper Center for Public Opinion Research, Cornell University
For the Trump White House.
[
Ask a Librarian
] [
Explore other web guides
] [
Current Interests Center
]
[
Library Catalog
] [
Search the Web
] [
Library Home Page
]

Ready Reference Center © Copyright 1999 - 2022 Middletown Thrall Library