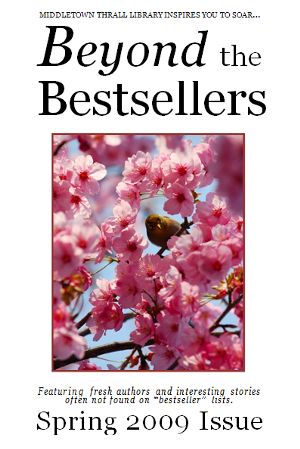 You can pick up a printed version of this list at Middletown Thrall Library.


Check out our Booklovers Web Guide for sites especially helpful to readers: book clubs, reading groups, book discussions, reviews, reading advisories, publishers, bookstores, and more!


Keep up with forthcoming titles and new authors by visiting our Booklovers Blog.


Looking for something "good" to read? Or is there a book you really like and want to tell others about? Check out Thrall's own free RAVES! service for readers.


Find bibliographic information for over 5 million book, audio book, and video titles in Books In Print: Patron Edition, or browse by subject, author, or book awards. Login using your Thrall Library card.



Have you tried NOVELIST yet? Find books and authors based on ones you like. Login using your Thrall Library card.



Looking for suggestions? Stop by our Readers' Advisory Center by Reference or ask a librarian for recommendations on what you might like to read next.

Also check out our Random Reads page for totally random titles, authors, and other topics you might want to read!



Every year the library hosts book discussions open to the public. Ask to be added to our mailing list or stop by the library to find out what's in the works!



Click here to find out what other free programs are currently scheduled at Thrall.



Click here to view current bestseller lists and other news items of possible interest to you.



Past Issues


Missed a past issue of Beyond the Bestsellers? Click below for previous BTBs and more reading recommendations:


Consider any of the titles below the next time you're looking for something interesting to read. To learn more about a book and check on its availablity within the library system, click a title link below.

You can also click on an author's name to see if any additional titles by that author are available in the library system.

Some book records in the library catalog have additional links you can click to learn more about the book and the author. Some titles even have chapter excerpts that you can read online!

Scroll down and browse by genre to begin!



---
NONFICTION
GENERAL FICTION

Other general fiction titles to consider:



MYSTERIES

Other mysteries to consider:



ROMANCE
SCIENCE FICTION / FANTASY
THRILLERS

Other thrillers to consider:


---