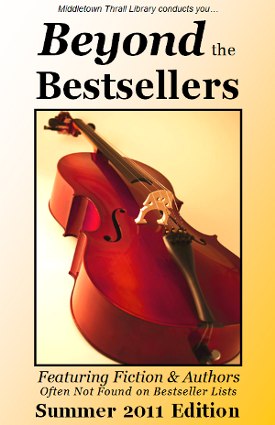 You can pick up a printed editions at Middletown Thrall Library.


Check out our Booklovers Web Guide for sites especially helpful to readers: book clubs, reading groups, book discussions, reviews, reading advisories, publishers, bookstores, and more!


Keep up with forthcoming titles and new authors by visiting our Booklovers Blog.


Looking for something "good" to read? Or is there a book you really like and want to tell others about? Check out Thrall's own free RAVES! service for readers.


Find bibliographic information for over 5 million book, audio book, and video titles in Books In Print: Patron Edition, or browse by subject, author, or book awards. Login using your Thrall Library card.



Have you tried NOVELIST yet? Find books and authors based on ones you like. Login using your Thrall Library card.



Looking for suggestions? Stop by our Readers' Advisory Center by Reference or ask a librarian for recommendations on what you might like to read next.

Also check out our Random Reads and Random GREATS pages for random popular and awarded titles, authors, as well as topics you might find interesting.



Every year the library hosts book discussions open to the public. Ask to be added to our mailing list or stop by the library to find out what's in the works!



Click here to find out what other free programs are currently scheduled at Thrall.



Click here to view current bestseller lists and other news items of possible interest to you.



Past Issues


Missed a past issue of Beyond the Bestsellers? Click below for previous BTBs and more reading recommendations:


We invite you to consider any of the titles below the next time you're looking for something interesting to read. To learn more about a book and check on its availablity within the library system, click a title link below.

You can also click on an author's name to see if any additional titles by that author are available in the library system.

Some book records in the library catalog have additional links you can click to learn more about the book and the author. Some titles even have chapter excerpts that you can read online!

Scroll down and browse by genre to begin!



---
General Fiction
The Astral - Kate Christensen. Poet Harry Quirk and his wife Luz have lived in Greepoint, Brooklyn throughout their thirty year marriage. When Luz suspects Harry is having an affair, she tosses him, his manuscripts and his computer out leaving him to seek solace in work, his friends, and his children. According to Kirkus, this character driven novel is "a masterpiece of comedy and angst."
The Sentimentalists - Johanna Skibsrud. Napoleon Haskell, an alcoholic and Vietnam veteran, goes to Canada to live with Henry Carey, the father of one of Napoleon's war buddies. In this meditative novel narrated by Napoleon's daughter, the poet Skibsrud explores themes of family, the generational effects of violence, and redemption.

Other titles to consider:
Other titles to consider:



Historical Fiction
City of Ash - Megan Chance. A young society matron is banished to Seattle after the painting she posed nude for is exhibited at the Art Institute of Chicago. Set during the time of the Great Fire (1889), this novel has wonderful characters, a tightly woven plot, and plenty of historical detail.

Other titles to consider:



Mysteries
Secret of the White Rose - Stefanie Pintoff. The third entry in Pintoff's stellar historical series finds Simon Ziele investigating the murder of a judge presiding over the trial of an anarchist who killed innocent bystanders in his attempt to murder Andrew Carnegie. Readers will be rewarded with a gripping narrative and plenty of atmosphere.

Other mysteries to consider:



Science Fiction & Fantasy
The Quantum Thief - Hannu Rajaniemi. Freed from Dilemma Prison, a thief agrees to travel with his rescuer to a city on Mars that uses time as currency. Kirkus calls this space opera "spectacularly and convincingly inventive, assured and wholly spellbinding: one of the most impressive debuts in years." Don't miss it!

Other titles to consider:



Thrillers
Breaking Silence - Linda Castillo. When three members of an Amish family die of asphyxiation in an apparent hate crime, Police Chief Kate Burkholder must confront her Amish upbringing and find answers before the killer strikes again.

Other thrillers to consider:



Westerns
The Sisters Brothers - Patrick deWitt. Cinematic, compelling, and amusing, with nods to Charles Portis and Frank Norris, this novel details the journey of Eli and Charlie Sister from Oregon City into the heart of the California Gold Rush.
---