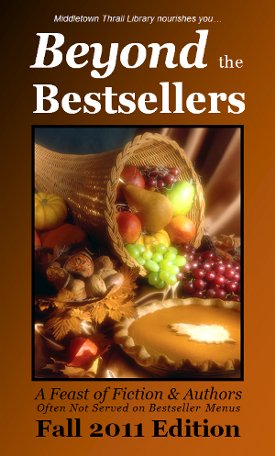 You can pick up a printed editions at Middletown Thrall Library.


Check out our Booklovers Web Guide for sites especially helpful to readers: book clubs, reading groups, book discussions, reviews, reading advisories, publishers, bookstores, and more!


Keep up with forthcoming titles and new authors by visiting our Booklovers Blog.


Looking for something "good" to read? Or is there a book you really like and want to tell others about? Check out Thrall's own free RAVES! service for readers.


Find bibliographic information for over 5 million book, audio book, and video titles in Books In Print: Patron Edition, or browse by subject, author, or book awards. Login using your Thrall Library card.



Have you tried NOVELIST yet? Find books and authors based on ones you like. Login using your Thrall Library card.



Looking for suggestions? Stop by our Readers' Advisory Center by Reference or ask a librarian for recommendations on what you might like to read next.

Also check out our Random Reads and Random GREATS pages for random popular and awarded titles, authors, as well as topics you might find interesting.



Every year the library hosts book discussions open to the public. Ask to be added to our mailing list or stop by the library to find out what's in the works!



Click here to find out what other free programs are currently scheduled at Thrall.



Click here to view current bestseller lists and other news items of possible interest to you.



Past Issues


Missed a past issue of Beyond the Bestsellers? Click below for previous BTBs and more reading recommendations:


We invite you to consider any of the titles below the next time you're looking for something interesting to read. To learn more about a book and check on its availablity within the library system, click a title link below.

You can also click on an author's name to see if any additional titles by that author are available in the library system.

Some book records in the library catalog have additional links you can click to learn more about the book and the author. Some titles even have chapter excerpts that you can read online!

Scroll down and browse by genre to begin!



---
General Fiction
Angelina's Bachelors - Brian O'Reilly.

When Angelina loses both her husband and her job within a short period of time, she copes with her grief by doing what she loves: cooking. Not able to eat all she prepares, Angelina shares with the neighborhood. This delightful romantic comedy has charm and recipes!

The Call - Yannick Murphy.

New England veterinarian David Appleton has a myriad of small worries already when his son is shot in a hunting accident. Told mostly through David's call log, this modern novel explores life, even in those surreal moments, with wry humor and grace.

Other titles to consider:



Historical Fiction
The Maid - Kimberly Cutter.

A marvelous retelling of the history of Joan of Arc, this novel is richly imagined and brings to life Joan's transformation from a young schoolgirl to the faith filled leader who inspired an army to liberate France from the English in the Hundred Years War.

Other titles to consider:



Mysteries
Wicked Autumn - G. M. Malliet.

In this cozy series opener, Vicar Max Tudor, who left the MI5 to become an Anglican priest, investigates the death of the Women's Institute president at the Harvest Fayre. This fresh rendition of the village mystery will please Agatha Christie fans.

Other mysteries to consider:



Science Fiction & Fantasy
The Highest Frontier - Joan Slonczewski.

Slonczewski chroncicles Jennifer Ramos Kennedy's first year at Frontera College in space. Kennedy, the descendant of three presidents and the clone of one, endures the usual freshman drama as well as being drawn into earth's problems back home.

Other titles to consider:



Thrillers
Sanctus - Simon Toyne.

An American journalist travels to Turkey to claim the body of her brother, a monk who threw himself from a mountain top. Touted as "in the tradition of Dan Brown," this thriller is exciting and compulsively readable.

Other thrillers to consider:









---